Some excerpts from (the still unpublished 4th edition of)
The Soundness of Plants
The Secrets of Sonobotanics
Periperceptoida Dendriformis Sensibilis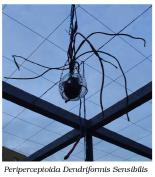 A sound plant whose precise classifying properties are to be found in the auditory domain. The stalk has a sound which is most similar to a woodwind instrument, whereas its leaves have a soft, rustling kind of sound. Its flowers sound like high pitched glass drops. Furthermore, the plant has a voice with which it reacts on perceived voices from other (e.g. human) beings.
Its physical appearance consists of a transparent ball, with long haulms (which are its sensing organs) in shades of blue and red with yellow ends.
Periperceptoida Dendriformis Imaginaris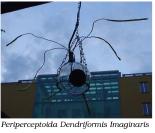 A sound plant which is directly related to Periperceptoida Dendriformis Sensibilis. Its acoustic appearance is quite similar to P.D. Sensibilis, except that P.D. Imaginaris does not react to other voices. The outstanding characteristic of Imaginaris is that it is directly connected to one and only one other Sensibilis and that its sound emanations are exactly identical to the sound of this one specimen of Sensibilis. Interestingly, a Sensibilis and its connected Imaginaris cannot live in the same garden; they seem to require some distance between them. The physical appearance of P.D. Imaginaris is quite similar to that of Sensibilis, but with less and more slender haulms.

The Periperceptoidae can be further differentiated by their individual preferences for certain kinds of sounds. When their preferred sounds occur often in their environment, this has a positive influence on their growth and sense of well-being.